Creating long-lasting pieces not subject to seasonal changes is one of the obsessions of Aldanondo and Fdez's atelier in Barcelona. One result of this research is this original design of a loafer that becomes an open sandal for the hottest times of the year using its own laces.
The construction of handmade footwear is so slow and meticulous that it hardly fits into seasonal collection cycles. Instead of responding to trends, craftsmanship is made to last. Among production and consumption patterns proving less and less sustainable, crafts appear as an alternative. Aware of this, some forward-thinking brands have started to desynchronize themselves from the frenetic rhythms of fashion by pursuing the timeless and the non-seasonal. More than ephemeral collections, Aldanondo and Fdez works on a series of models that are meant to remain.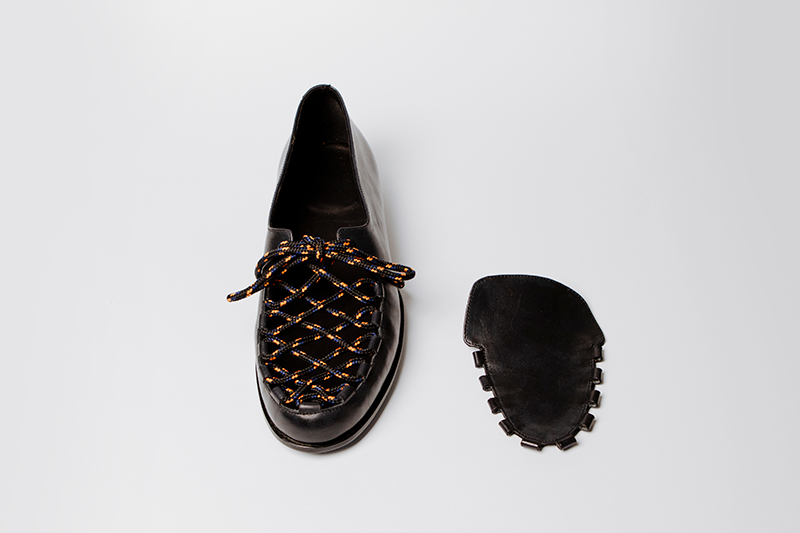 That's why many designs have removable parts that turn them into several models in one like the Fuertes model. In this case, through pattern making, a new use has been given to the stitching of the typical chapeta —the piece that covers the instep— of a classic moccasin, allowing it to be removed.
This is another of the principles that has been followed in this case: starting with the classics, updating them, and taking them to a different field. The moccasin is a particularly interesting model. Present in many places on the planet and in various periods of history, its origin comes from the most obvious way of building shoes: wrapping the foot in a skin.
This concept evolved by incorporating a flap sewn into the upper part of the shoe. This way of building is called Kiowa, after the Native American tribe that used it. Then, as we say, it has been used all over the world, from the Norwegian peasants at the beginning of the last century, to the most recent nautical shoes —the penny loafers originally from Maine— or the Spanish Castilians. These models are usually linked to the artisan process, since the seam that joins the upper piece is still mostly done by hand. In the case of Fuertes loafers, this seam is replaced by a cord that, on a larger scale, is also "sewing" the flap.
The main challenge when designing convertible models is drawing the pattern. Achieving a shoe design that is innovative, but at the same time functional and durable, requires solid knowledge in pattern making. Many artisan workshops are mainly dedicated to assembling shoes on the last and outsource the pattern making and sewing of the pattern to other professionals. Aldanondo and Fdez's atelier, however, is also dedicated to technical drawing and machine sewing of patterns. These techniques can be learned in the Course of Patternmaking, Cutting and Machine Sewing available.